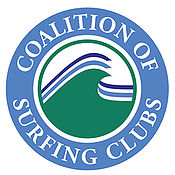 The Pacific Beach Surf Club, originally founded in 1957 and then reborn in 1994, is a nonprofit organization dedicated to the celebration of the Hawaiian sport of kings, surfing.
The club fulfills its mission by spreading aloha in all its endeavors, whether it be in friendly competition with rival clubs, respecting the environment through annual beach cleanups, teaching beginners and novices the skills and surf etiquette they will need through regular surf clinics, and passing on our knowledge and skills to the next generation of surfers.
The club is also a proud member of the Coalition of Surfing Clubs, and we participate in their annual series of surfing competitions up and down the California coast and sometimes even Baja, Mexico!
Please have a look around, sign up if you haven't already done so, and join the conversation!